With rising expectations of cleanliness and hygiene, ensuring the health and safety of patients and staff is a higher priority than ever before. Rubbermaid Commercial Products has durable, long-lasting products to help acute care facilities maintain cleanliness and prevent the spread of illness.
Hospitals are facing the unique challenge of encouraging patients to seek care & making sure they feel safe when doing so.
Percentage of Americans who said they were only somewhat or not comfortable at all visiting a hospital due to the pandemic1
Percentage of Americans who feel unsafe going to a physician's office due to the pandemic2
Percentage of Americans who do not feel comfortable scheduling a medical procedure during the pandemic2
As a result, it is more important than ever before to strive for a new level of cleanliness and provide the right products to keep patients safe.
High touch Cleaning guidance
As patients remain hesitant to visit hospitals across the country, acute care facilities need to ensure that they have an established cleaning process that includes regularly cleaning high-touch areas. Cleaning frequently with industry-leading products will help healthcare facilities keep patients and employees safe and minimize the spread of illness.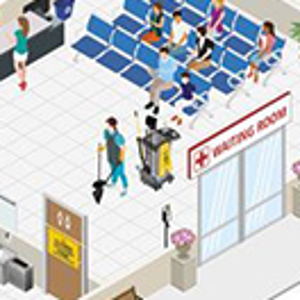 Common Area and Back of House Solutions
Improve the perception of clean in common areas around the facility with products designed to help staff clean and disinfect effectively.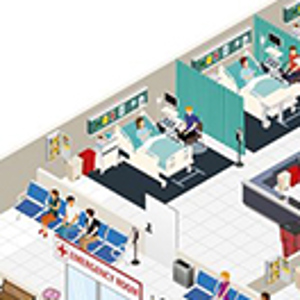 Patient Care Area Solutions
Utilize proper cleaning processes and tools with increased efficacy to maintain a safer environment for patients, visitors and hospital staff.
ACUTE CARE CLEANING CHECKLIST
Utilize our Acute Care Cleaning Checklists to train your staff on appropriate cleaning protocols, including step-by-step instructions on how to clean your facility. Identify high-touch areas and ensure your staff understands the appropriate steps to clean and disinfect all areas of the facility, including:
Patient Rooms and Restrooms
Isolation Rooms and Restrooms
Floor Care
Featured Products by Space
Cleaning Products for All Spaces
Acute Care Product Recommendations
For more information on Acute Care cleaning guidance, review guidelines from key industry associations, regulatory bodies, and media outlets, including the below:
1 Becker's Hospital Review: "35% of Americans have visited primary care physician since April, survey finds" July 2020  |  2 Becker's Hospital Review: "Nearly 40% of Americans still hesitant to visit physician's office due to COVID-19" January 2021
Contact your RCP representative for more information on Acute Care cleaning guidelines or product solutions.