Stadiums & Arenas
As patrons seek to return to entertainment experiences after COVID-19, facilities need to meet higher expectations of cleanliness to ensure health and safety is a top priority.
Experts predict that the COVID-19 pandemic will have far-reaching implications on cleaning standards in entertainment venues.
Percentage of patrons who indicate their perception of a venue's hygiene practices will influence their decision to patronize1.
Percentage of individuals attending sporting events who would feel much more or somewhat more comfortable attending events when venues communicate sanitization practices2.
As a result, it is more important than ever before to strive for a new level of cleanliness to keep patrons safe.
High touch Cleaning guidance
With many patrons still cautious of crowded environments, facilities need to ensure that they have an established cleaning process that includes regularly cleaning high-touch areas. Cleaning frequently with industry-leading products will help keep patrons and employees safe and minimize the spread of illness.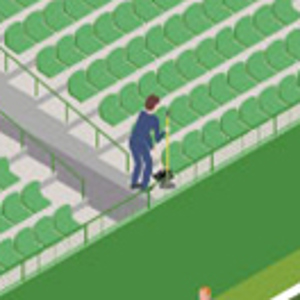 Front of House Solutions
Improve the perception of clean in patron-facing areas around the facility with cleaning processes to help staff clean and disinfect effectively.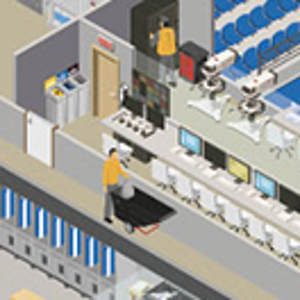 Back of House Solutions
Support productivity, health and wellness, and sustainability initiatives with a variety of products designed to support facility operations.
STADIUM & ARENA CLEANING CHECKLIST
Utilize our Stadium & Arena Cleaning Checklists to train your staff on appropriate cleaning protocols, including step-by-step instructions on how to clean your facility. Identify high-touch areas and ensure your staff understands the appropriate steps to clean and disinfect all areas of the facility, including:
Entrance & Lobby
Concession & Dining Areas
Operational Areas
Featured Products by Space
Team Weight & Locker Room
Cleaning Products for All Spaces
STADIUM & ARENA Product Recommendations
For more information on Stadium & Arena cleaning guidance, review guidelines from key industry associations, regulatory bodies, and media outlets, including the below:
1 R.W. Baird, "The Evolution from Jan San to Hygiene is Now Complete"  |  2 Morning Consult, "As Venues Focus on Air Quality, Many Sports Fans Are Ready to Return to Indoor Events"
Contact your RCP representative for more information on Stadium & Arena cleaning guidelines or product solutions.