With older residents at higher risk of getting sick, it is critical that nursing homes and assisted living facilities implement thorough cleaning and safety procedures to prevent the spread of illness.
Long Term Care facilities have a heightened responsibility to keep their high-risk residents safe from illness.
Percentage of Americans who say the pandemic has had a negative impact on their opinion of nursing homes1
Percentage of Americans say they are less likely to consider facility-based care for their older family members due to the pandemic1
Percentage of long-term care facilities reviewed with staff who did not follow proper handwashing protocols2
As a result, it is more important than ever before to strive for a new level of cleanliness and provide the right products to keep residents safe.
High touch Cleaning guidance
With many residents at higher risk of illness and complications, Long Term Care facilities need to ensure that they have an established cleaning process that includes regularly cleaning high-touch areas. Cleaning frequently with industry-leading products will help keep residents and employees safe and minimize the spread of illness.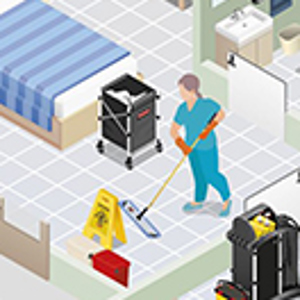 Resident Room Solutions
Improve the perception of clean in common areas around the facility with products designed to help staff clean and disinfect effectively.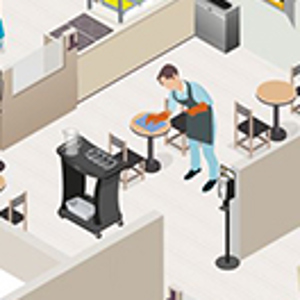 Common Area Solutions
Utilize proper cleaning processes and tools with increased efficacy to maintain a safer environment for residents, visitors, and facility staff.
LONG TERM CARE CLEANING CHECKLIST
Utilize our Long Term Care Cleaning Checklists to train your staff on appropriate cleaning protocols, including step-by-step instructions on how to clean your facility. Identify high-touch areas and ensure your staff understands the appropriate steps to clean and disinfect all areas of the facility, including:
Resident Rooms
Resident Restrooms
Floor Care
Featured Products by Space
Cleaning Products for All Spaces
LONG TERM CARE PRODUCT RECOMMENDATIONS
For more information on Acute Care cleaning guidance, review guidelines from key industry associations, regulatory bodies, and media outlets, including the below:
1 AARP Research, "Nursing Homes and Assisted Living Are Still Popular, Despite Coronavirus Outbreaks" November 2020  |  2 Levin & Perconti, "New CMS Survey Shows 36% Of Long-Term Care Facility Staff Still Aren't Washing Their Hands Properly"
Contact your RCP representative for more information on Long Term Care cleaning guidelines or product solutions.