Primary and Secondary (K12) Schools
As primary and secondary schools across the country begin to reopen, Rubbermaid Commercial Products is here to help with durable, long-lasting products that can help create safe, clean environments for students as they are able to return.
The COVID-19 pandemic has significantly impacted all stakeholders in K-12 schools, from parents who are concerned that their children are exposed to germs, to the staff responsible for keeping the environment clean, to the students themselves.
Percentage of parents who have concerns that their children are exposed to germs at school1
Average decline in classroom capacity as a result of social distancing2
Percentage of teachers* who are cleaning their own classrooms once schools have reopened3
As a result, it is more important than ever before to strive for a new level of cleanliness and provide the right products to keep students safe while maximizing staff and employee productivity.
High touch Cleaning guidance
As children begin returning to schools across the country, educational facilities need to ensure that they have an established cleaning process that includes regularly cleaning high-touch areas. Cleaning frequently with industry-leading products will help facilities keep employees safe and minimize the spread of illness.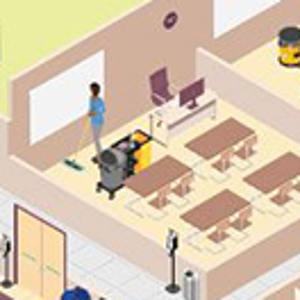 Classroom & Common Area Solutions
Provide a clean and welcoming learning environment in classrooms and common areas with products designed to support student and staff safety, health and well-being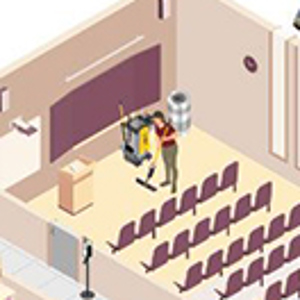 Specialty Area Solutions
Increase staff efficiency with products designed to support routine cleaning and emergency clean-ups in high-traffic specialty areas, including the auditorium, library and cafeteria
PRIMARY AND SECONDARY SCHOOL (K-12) CLEANING CHECKLIST
Utilize our Primary & Secondary Schools (K-12) Cleaning Checklists to train your staff on appropriate cleaning protocols, including step-by-step instructions on how to clean your facility. Identify high-touch areas and ensure your staff understands the appropriate steps to clean and disinfect all areas of the facility, including:
Classrooms
Common Areas
Specialty Areas, including Auditorium, Study Areas, & Gym
Cafeteria
Restroom
Featured Products by Space
Playground & Outdoor Areas
Cleaning Products for All Spaces
PRIMARY AND SECONDARY SCHOOL (K-12) PRODUCT RECOMMENDATIONS
Utilize our Primary & Secondary School (K-12) Product Recommendations brochure to identify RCP products that support facility cleanliness, including touch free products, hand sanitizer stations, cleaning solutions, and more.
For more information on Primary & Secondary School cleaning guidance, review guidelines from key industry associations and regulatory bodies:
While the above guidelines are applicable nationwide, states are also implementing their own specific recommendations and requirements. Make sure to review and follow all guidelines issued by your state's Department of Education and other state-wide or local organizations.
*British Teachers  |  1 "Statistics on School Cleanliness," The Edvocate.Org, 2015.  |  2  "National Council on School Facilities and Cooperative Strategies," 2020. |  3 "Teachers Expected to Clean Classrooms Amid Safety Fears", NASUWT, July 2020.
Contact your RCP representative for more information on Primary & Secondary School (K-12) cleaning guidelines or product solutions.