May 10, 2019
Rubbermaid Commercial Products® Freshworks™ Produce Saver
The RCP Freshworks™ Produce Saver keeps produce fresher longer*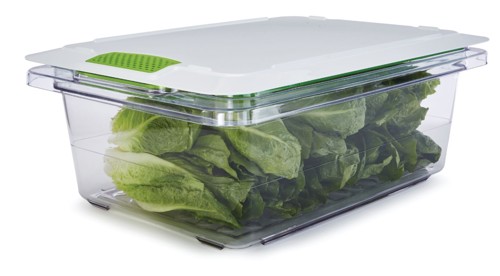 The Produce Saver regulates the flow of oxygen and ethylene, creating the optimal environment to store fruits and vegetables.  By allowing produce to "breathe", they stay at their peak freshness for a longer period of time, reducing the amount of food thrown away due to spoilage.  The containers are made of heavy duty, commercial grade polycarbonate and are dishwasher safe.  The filter has a unique long lasting silicone coating, meaning it never needs to be changed or replaced.
KEY BENEFITS:
Produce Life Extension: Keeps Produce Fresher Longer*

Produce preserving technology works with a variety of the most common types of produce stored in traditional food boxes, results vary based on produce and use*

Patented Filter: Patented filter regulates the flow of oxygen and ethylene, and never needs to be changed or replaced
Built-In Drain Tray: Unique drain tray design elevates produce from residual moisture to promote air flow
Air Tight Lid: Lids are easy to open and close, and helps to create the optimal environment within the container
Commercial Dishwasher Safe: Heavy duty construction can withstand commercial dishwashing
NSF Approved: Containers and lids are certified under NSF Std. 2 for food storage
For more information about the Freshworks™ Produce Saver or to find a Rubbermaid Commercial Products distributor or wholesaler, please visit www.rubbermaidcommercial.com.
*Produce stored in RCP Produce Saver vs. Standard food box
ABOUT Rubbermaid Commercial Products
Rubbermaid Commercial Products (RCP), headquartered in Huntersville, NC is a manufacturer of innovative, solution-based products for commercial and institutional markets worldwide. Since 1968, RCP has pioneered technologies and system solutions in the categories of food services, sanitary maintenance, waste handling, material transport, away-from-home washroom and safety products.