September 30, 2020
RUBBERMAID COMMERCIAL PRODUCTS CELEBRATED ENVIRONMENTAL SERVICE (EVS) WORKERS DURING EVS WEEK
EVS team members appreciated the recognition for the important role they play in a healthcare facility
Huntersville, NC - (Sept 30, 2020) – During Environmental Services (EVS) Week earlier this month, Rubbermaid Commercial Products (RCP), the leader in innovative, solutions-based commercial products, recognized and celebrated EVS teams across the country for their service and dedication to helping keep healthcare facilities clean and safe for patients and staff. EVS Week, which takes place during the second week of September, is a nationally recognized week to honor the men and women who ensure safe, comfortable, and clean healthcare facilities all year long.
By partnering with two of their customers, Grainger and Staples, as well as key end-users, RCP was able to reach over 5,000 EVS team members at 40 hospitals across the country and gift them with care packages to say "thank you" for all of their hard work. The care packages included a Rubbermaid lunch box, Contigo water bottle, Yankee Candle, Domino's gift card, Sharpie marker, and a thank-you note.
Many EVS team members said they really appreciated the recognition and care packages because they have not received many donations like the medical staff and don't always feel important. RCP believes EVS teams play a critical role in helping ensure a sanitary environment for patients and staff and are the frontline defense against serious infections that can spread throughout a facility.
"We were very excited to shine a spotlight on these frontline heroes and the invaluable work they perform in healthcare facilities," said Marta Aebischer, VP Marketing, Rubbermaid Commercial Products. "Every day, especially during the COVID-19 pandemic, EVS teams play a vital role in helping to keep everyone safe through proper cleaning and disinfecting."
About Rubbermaid Commercial Products
Rubbermaid Commercial Products (RCP), headquartered in Huntersville, NC, is a manufacturer of innovative, solution-based products for commercial and institutional markets worldwide. Since 1968, RCP has pioneered technologies and system solutions in the categories of washroom and safety, cleaning, waste handling, material transport, and food services. RCP is part of Newell Brands' global portfolio of leading brands and continues to develop innovative products. Visit www.rubbermaidcommercial.com to learn more.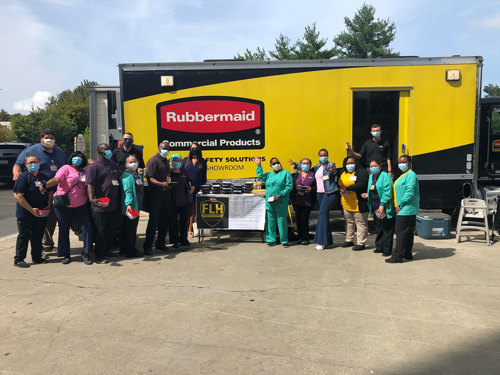 ###