The product FG9F0400WHT has been discontinued.
Please look for a replacement here.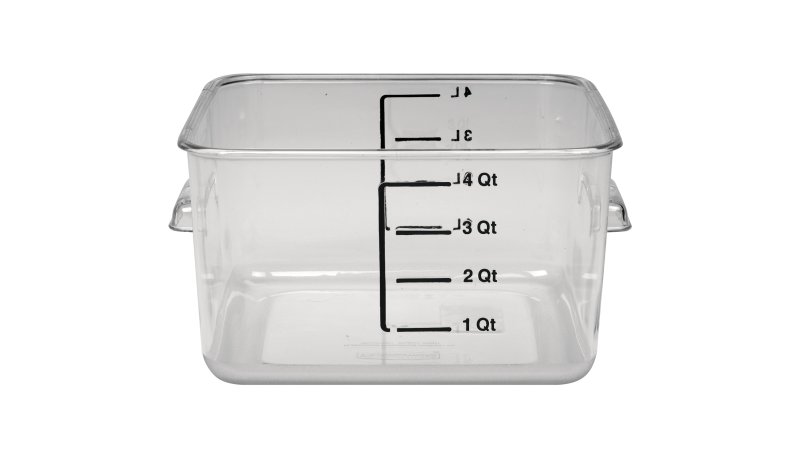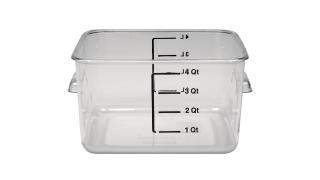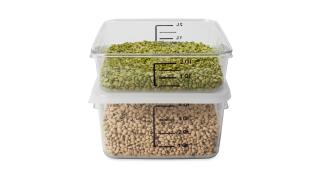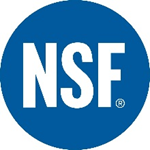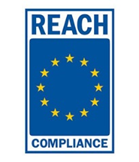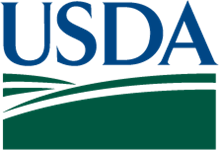 4 Qt Square Storage Container Clear
SKU: FG630400CLR
The Rubbermaid Commercial seven colors of storage and prep tools help to reduce cross-contamination in your kitchen
Square shape offers 25% more storage capacity than round containers
Constructed from dishwasher-safe, impact-resistant polycarbonate
Easy-to-read, graduated measurements color-coded blue for liters, red for quarts
Great for sous vide cooking to retain moisture, flavor, and nutrients
Measures 8-3/4" x 8-5/16" x 4-3/4"
details
The Rubbermaid Commercial Space Saving Food Storage Container, 4-Quart, Clear, keeps food fresh, organized, and ready-to-use. Featuring easy-to-read graduated measurements in blue for liters and red for quarts, these plastic food storage containers make it easy to measure contents. Because we believe the best food storage containers use space efficiently, we've designed these plastic containers with a square shape that offers 25% more storage capacity than round containers. Constructed of break-resistant polycarbonate, they have a temperature range of -40°-212°F making them perfect for everything from freezer storage to sous vide cooking. Commercial dishwasher safe, they feature durable handles with drain holes for proper washing and drying. USDA-certified for food contact, it assists in complying with HACCP guidelines and is NSF 3-A Meat and Poultry Equipment and NSF 2-certified.
Features and Benefits:
Square shape offers 25% more storage capacity than round containers
Constructed from dishwasher-safe, impact-resistant polycarbonate
Easy-to-read, graduated measurements color-coded blue for liters, red for quarts
Great for sous vide cooking to retain moisture, flavor, and nutrients
Measures 8-3/4" x 8-5/16" x 4-3/4"
Assists in complying with HACCP guidelines
NSF 3-A Meal and poultry equipment and NSF 2-certified
WARNING: Reproductive Harm - www.P65Warnings.ca.gov
specifications
| | U.S. | Metric |
| --- | --- | --- |
| Product Length | 8.75 in | 4.75 cm |
| Product Width | 8.80 in | 12.00 cm |
| Product Height | 4.75 in | 4.74 cm |
| Product Weight | 10.44 lb | 8.80 kg |
| Upc | 00086876043990 | |
| Case Pack Length | 24.13 in | 29.63 cm |
| Case Pack Width | 75.25 in | 24.13 cm |
| Case Pack Height | 29.63 in | 75.25 cm |
| Case Pack Weight | 24.77 lb | 9.50 kg |
| Case Pack Quantity | 12 | |
| Ucc | 10086876043997 | |
| Packaging Length | 22.35 in | 4.75 cm |
| Packaging Width | 12.07 in | 12.00 cm |
| Packaging Height | 10.20 in | 4.74 cm |
| Packaging Weight | 22.23 lb | 8.80 kg |
| Color | Clear | |
| Material Type | Polycarbonate (PC) | |
| Country of Origin | USA | |
| Temperature Range | -40°F to 212°F (-40°C to 100°C) | |
Documents
Certifications & Regulatory Information
<p>Ensure Safety with Food Contact Testing and Certification</p> <p>Eating and drinking are vital parts of our daily life. Today, consumers are increasingly concerned about the safety of products that come into contact with the food they eat, the so-called food-grade products or food contact material.</p> <p>Regulatory requirements for materials coming into contact with food are constantly updated and demand the highest levels of food safety and inspection services. Both authorities and consumers are paying more attention to the testing of these products. With TÜV Rheinland food-grade certification, your products are held to and proven to meet high safety standards.</p>
<p>NSF International is an independent testing lab/organization in Ann Arbor, Michigan. NSF lists products which meet their criteria for cleanability and sanitation: food contact, splash zone and non-food contact, per Standards:</p> <p><strong>2:</strong> Food Equipment and Standard</p> <p><strong>18:</strong> Manual Beverage Dispensers.</p> <p><strong>21:</strong> Thermoplastic Refuse Containers.</p> <p>Link: <a href="https://www.nsf.org/">www.nsf.org</a></p>
<p>REACH (Registration, Evaluation, Authorization and Restriction of Chemicals) requires substances of very high concern (SVHC) that are imported into the EU in certain quantities to be registered with European Chemicals Agency (ECHA). A list of acceptable substances is maintained and any substances on that list do not require separate registration. REACH is a globally recognized initiative and most countries now have some level of a REACH program.</p>
<p>United States Department of Agriculture Equipment Listing (Meat and Poultry and 3A Dairy Listing). Items that comply with USDA regulations via the design, construction, and materials of a product.</p> <p>Link: <a href="https://www.usda.gov/">www.usda.gov</a></p>