The product 1829402 has been discontinued.
Please look for a replacement here.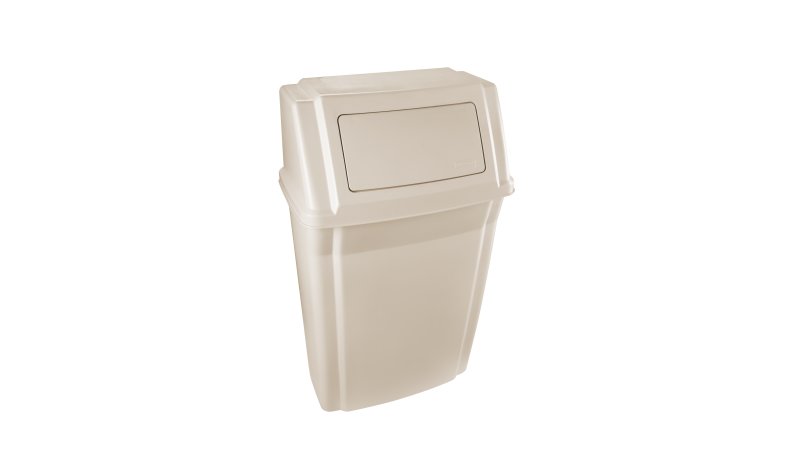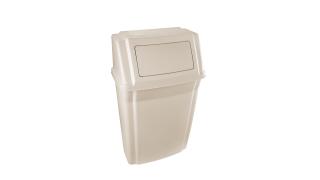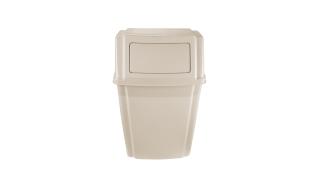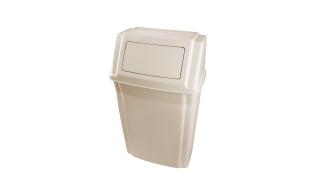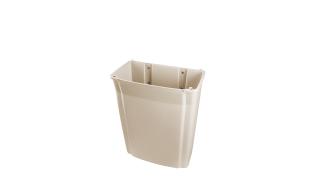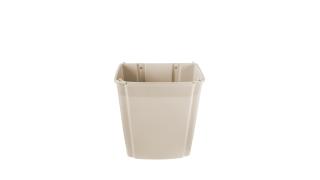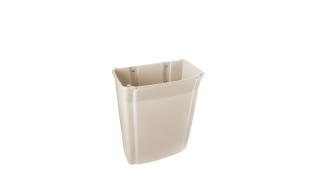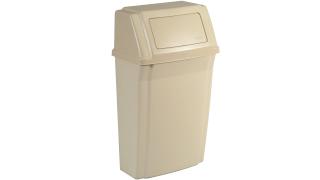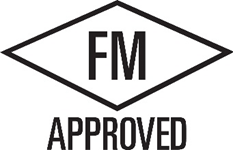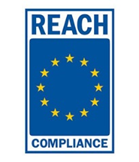 Profile Wall Mount 15 Gal Beige
SKU: FG782200BEIG
Factory Mutual approved for fire safety when wall mounted.
Spring-loaded swing door helps control odor and hides trash from public view
Wall mounting keeps the container out of pedestrian traffic and allows for floor cleaning
Comes with complete hardware and instructions for wall mounting
Slim design limits intrusion into corridors, washrooms, kitchens, and other limited space areas
Made in the USA
details
The Rubbermaid Commercial Wall Mounted Container is ideal for a kitchen, washroom, corridor, and other tight spaces. These containers are constructed from durable polypropylene and are easy to clean and ADA-Compliant.
Features and Benefits:
Spring-loaded swing door helps control odor and hides trash from public view
Wall mounting keeps the container out of pedestrian traffic and allows for floor cleaning
Comes with complete hardware and instructions for wall mounting
Slim design limits intrusion into corridors, washrooms, kitchens, and other limited space areas
Made in the USA
specifications
| | U.S. | Metric |
| --- | --- | --- |
| Product Length | 19.50 in | 30.18 cm |
| Product Width | 11.88 in | 50.50 cm |
| Product Height | 32.63 in | 85.42 cm |
| Product Weight | 9.10 lb | 5.26 kg |
| Upc | 00086876125511 | |
| Case Pack Length | 12.21 in | 31.00 cm |
| Case Pack Width | 19.84 in | 50.40 cm |
| Case Pack Height | 33.86 in | 86.00 cm |
| Case Pack Weight | 11.46 lb | 5.20 kg |
| Ucc | 00086876125511 | |
| Case Pack Quantity | 1 | |
| Capacity | 15 gal (US) | |
| Color | Beige | |
| Material Type | Resin | |
| Country of Origin | USA | |
Documents
Certifications & Regulatory Information
<p>The ADA prohibits discrimination and ensures equal opportunity for persons with disabilities in employment, State and local government services, public accommodations, commercial facilities, and transportation.</p> <p>Rubbermaid Commercial Products refuse containers need to comply with the ADA regulations; as long as "access openings" for containers are below 48", containers are compliant to ADA regulations.</p> <p>Link: <a href="https://www.ada.gov/">www.ada.gov</a></p>
<p>Proposition 65 is an initiative originally approved by CA voters to address their growing concerns about exposure to toxic chemicals. It became the Safe Drinking Water and Toxic Enforcement Act of 1986, better known by its original name of Proposition 65. Prop 65 requires the State of CA to publish a list of chemicals known to cause cancer or birth defects or other reproductive harm, etc. The chemicals include additives or ingredients in pesticides, common household products, food, drugs, dyes, or solvents. The program is administered by The Office of Environmental Health Hazard Assessment (OEHHA) which is part of the CA Environmental Protection Agency. Where required, warnings must be included with the product's labeling.</p> <p>Link: <a rel="noopener" href="https://oehha.ca.gov/proposition-65" target="_blank">https://oehha.ca.gov/proposition-65</a></p>
<p>Factory Mutual is an independent testing agency whose approvals are based on Standard 6921 Combustible Waste Containers. <br />Standard 6921 is performance criteria for containers with covers (lids) and their ability to withstand internal fires, maintain a certain range of stability, if dumped, and stay intact over a wide temperature range.</p> <p>                </p> <p>Link: <a href="https://www.fmglobal.com/">www.fmglobal.com</a>                 </p>
<p>REACH (Registration, Evaluation, Authorization and Restriction of Chemicals) requires substances of very high concern (SVHC) that are imported into the EU in certain quantities to be registered with European Chemicals Agency (ECHA). A list of acceptable substances is maintained and any substances on that list do not require separate registration. REACH is a globally recognized initiative and most countries now have some level of a REACH program.</p>