The product FGR1450PLEGN has been discontinued.
Please look for a replacement here.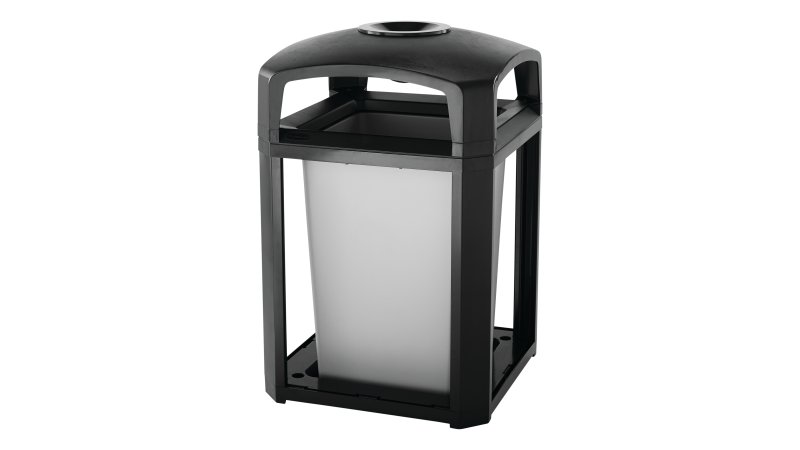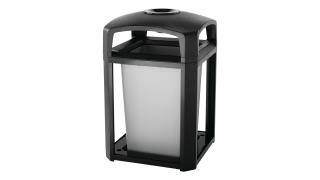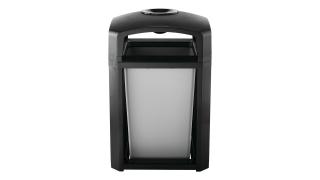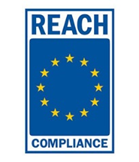 Landmark Series® Classic Container, Dome Top with Ashtray, Frame and FG395800 Rigid Liner
SKU: FG397001BLA
High volume refuse collection and smoking management for indoor and outdoor areas, including building entrances, lobbies and malls
Combines smokers station with waste management
Matches just about any décor
UV stabilizer protects from the sun's rays
Hinged top for easy maintenance
Measures 26" x 40"
details
The Rubbermaid Commercial Landmark Series® Trash Can Frame and Liner has a square, injection-molded, polycarbonate garbage can frame with a dome top and a rigid trash liner suitable for stadiums, parks, shopping malls, and other high-traffic areas (side panels sold separately). The polycarbonate material resists scratches, impacts, and certain chemicals. This trash can has openings on all four sides for convenient garbage disposal. The hinged trash bin top flips open for emptying. An ultraviolet (UV) stabilizer minimizes fading and discoloring.
Features and Benefits:
Combines smokers station with waste management
Matches just about any décor
UV stabilizer protects from the sun's rays
Hinged top for easy maintenance
Measures 26" x 40"
Made in the USA
specifications
| | U.S. | Metric |
| --- | --- | --- |
| Product Length | | 66.04 cm |
| Product Packaging Width | | 66.04 cm |
| Product Packaging Height | 40.00 in | 101.60 cm |
| Product Packaging Weight | 49.60 lb | |
| Upc | 00086876172881 | |
| Case Pack Length | 26.50 in | 67.31 cm |
| Case Pack Width | 26.50 in | 67.31 cm |
| Case Pack Height | 42.25 in | 107.32 cm |
| Case Pack Weight | 46.80 lb | 21.23 kg |
| Case Pack Quantity | 1 | |
| Ucc | 00086876172881 | |
| Packaging Length | | 66.04 cm |
| Packaging Width | | 66.04 cm |
| Packaging Height | | 101.60 cm |
| Capacity | 35.00 gal | |
| Color | Black | |
| Material Type | Resin | |
| Country of Origin | USA | |
Documents
Certifications & Regulatory Information
<p>The ADA prohibits discrimination and ensures equal opportunity for persons with disabilities in employment, State and local government services, public accommodations, commercial facilities, and transportation.</p> <p>Rubbermaid Commercial Products refuse containers need to comply with the ADA regulations; as long as "access openings" for containers are below 48", containers are compliant to ADA regulations.</p> <p>Link: <a href="https://www.ada.gov/">www.ada.gov</a></p>
<p>Proposition 65 is an initiative originally approved by CA voters to address their growing concerns about exposure to toxic chemicals. It became the Safe Drinking Water and Toxic Enforcement Act of 1986, better known by its original name of Proposition 65. Prop 65 requires the State of CA to publish a list of chemicals known to cause cancer or birth defects or other reproductive harm, etc. The chemicals include additives or ingredients in pesticides, common household products, food, drugs, dyes, or solvents. The program is administered by The Office of Environmental Health Hazard Assessment (OEHHA) which is part of the CA Environmental Protection Agency. Where required, warnings must be included with the product's labeling.</p> <p>Link: <a rel="noopener" href="https://oehha.ca.gov/proposition-65" target="_blank">https://oehha.ca.gov/proposition-65</a></p>
<p>REACH (Registration, Evaluation, Authorization and Restriction of Chemicals) requires substances of very high concern (SVHC) that are imported into the EU in certain quantities to be registered with European Chemicals Agency (ECHA). A list of acceptable substances is maintained and any substances on that list do not require separate registration. REACH is a globally recognized initiative and most countries now have some level of a REACH program.</p>