Rubbermaid Commercial Products is ready to assist distribution partners and commercial facilities in their efforts to promote and maintain a clean and safe environment.
Read Our Response
WHAT IS CORONAVIRUS (covid-19)?
Coronavirus disease 2019 (COVID-19) is a respiratory illness that can cause severe symptoms, even death. The virus that causes COVID-19 can spread between people who are in close contact with one another or by touching a surface that has the virus on it.
In March 2020, the World Health Organization (WHO) declared COVID-19 a global pandemic. For the most updated information, please refer to the WHO website.
KEY BEHAVIORS TO PREVENT INFECTION
As commercial facilities reopen, it is critical that facility managers, cleaning staff and healthcare professionals are equipped with knowledge and tools to mitigate the spread of the virus that causes COVID-19.
Contact US
Rubbermaid Commercial Products can assist with products that promote personal and environmental hygiene. We're seeing significantly increased demand for several of our product categories and are working diligently to meet this surge in demand to the best possible extent. Please contact us with product inquiries or questions. 
RECOMMENDED RESOURCES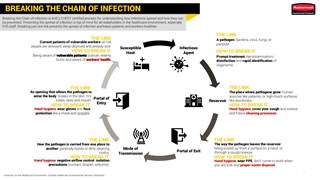 Breaking the Chain of Infection in Healthcare
View Details