The product 1961705 has been discontinued.
Please look for a replacement here.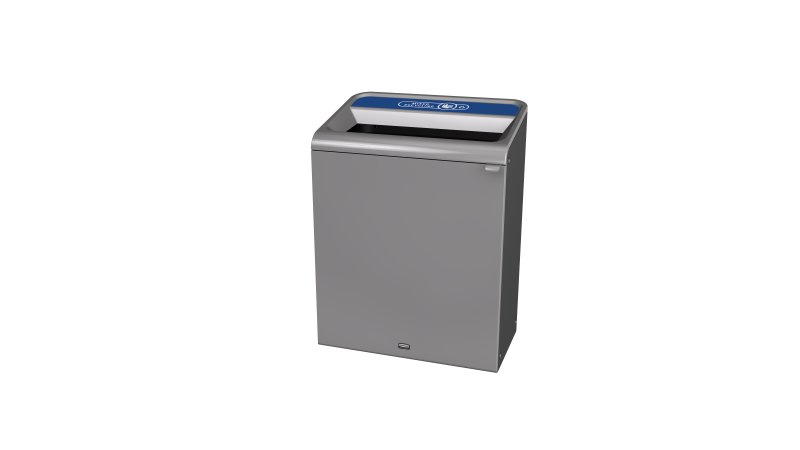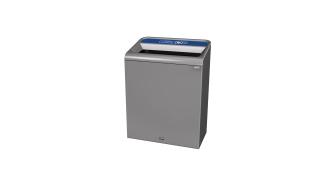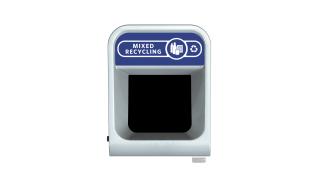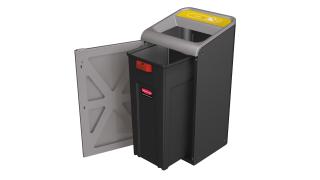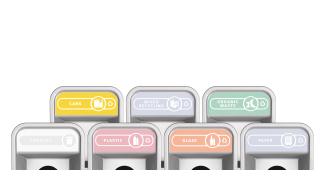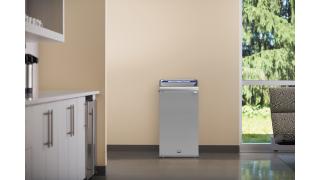 CONFIGURE™ 1 STREAM MR 45G GS
SKU: 1961508
The Configure™ Decorative Waste Containers provide a recycling solution with sleek, smooth surfaces and contoured edges. This recycling system has a modern appearance that will fit seamlessly into any indoor or outdoor commercial environment.
Heavy-gauge steel recycler with a damage-resistant powder coat finish features contoured edges and magnetic connections that keep receptacles perfectly aligned to one another for a professional appearance
Rounded easy-glide feet allow the container to be moved efficiently while a color-coded label and single stream open top reliably collect up to 23 gallons of landfill garbage
An easy-access front door with handle allows for ergonomic removal of trash from the garbage can while an internal door hinge prevents wall damage
Rigid plastic liner with handles has integrated cinches for knot-free bag changes and built-in venting channels that allow air to flow into the garbage can for easier disposal
Ships fully assembled
details
The Rubbermaid Commercial Configure™ Waste Receptacle, Mixed Recycling Can, 45 Gallon provides a stylish way to collect recyclables in low traffic areas. Constructed of corrosion-resistant heavy gauge steel with a damage-resistant powder coat finish and contoured edges for a modern appearance, the garbage can fits any commercial environment. This single stream recycle bin has a color-coded label and a large open top for collecting recyclables. Magnetic connections allow receptacles to attach to one another and stay arranged in the order that best fits the space – in a row or an island. An easy-access front door and handle reduces strain on staff, while internal door hinges protect walls from damage. Inside the trash bin, a rigid plastic liner features handles for more comfortable trash removal, integrated cinches so bags won't slip and venting channels that allow air to flow into the can making removal easier. This container ships fully assembled.
Features and Benefits:
Heavy-gauge steel recycler with a damage-resistant powder coat finish features contoured edges and magnetic connections that keep receptacles perfectly aligned to one another for a professional appearance
Rounded easy-glide feet allow the container to be moved efficiently while a color-coded label and single stream open top reliably collect up to 23 gallons of landfill garbage
An easy-access front door with handle allows for ergonomic removal of trash from the garbage can while an internal door hinge prevents wall damage
Rigid plastic liner with handles has integrated cinches for knot-free bag changes and built-in venting channels that allow air to flow into the garbage can for easier disposal
Ships fully assembled
specifications
| | U.S. | Metric |
| --- | --- | --- |
| Product Length | 29.13 in | |
| Product Packaging Width | 19.50 in | |
| Product Packaging Height | 37.97 in | |
| Product Packaging Weight | n/a | |
| Upc | 00086876228700 | |
| Case Pack Length | 32.25 in | 81.92 cm |
| Case Pack Width | 22.25 in | 56.52 cm |
| Case Pack Height | 41.63 in | 105.73 cm |
| Case Pack Weight | 90.00 lb | 40.82 kg |
| Case Pack Quantity | 1 | |
| Ucc | 00086876228700 | |
| Capacity | 45.00 gal | |
| Color | Gray Stenni | |
| Material Type | Metal | |
| Country of Origin | USA | |
Documents
Decorative Refuse - Catalog
Certifications & Regulatory Information
<p>The ADA prohibits discrimination and ensures equal opportunity for persons with disabilities in employment, State and local government services, public accommodations, commercial facilities, and transportation.</p> <p>Rubbermaid Commercial Products refuse containers need to comply with the ADA regulations; as long as "access openings" for containers are below 48", containers are compliant to ADA regulations.</p> <p>Link: <a href="https://www.ada.gov/">www.ada.gov</a></p>
<p>Proposition 65 is an initiative originally approved by CA voters to address their growing concerns about exposure to toxic chemicals. It became the Safe Drinking Water and Toxic Enforcement Act of 1986, better known by its original name of Proposition 65. Prop 65 requires the State of CA to publish a list of chemicals known to cause cancer or birth defects or other reproductive harm, etc. The chemicals include additives or ingredients in pesticides, common household products, food, drugs, dyes, or solvents. The program is administered by The Office of Environmental Health Hazard Assessment (OEHHA) which is part of the CA Environmental Protection Agency. Where required, warnings must be included with the product's labeling.</p> <p>Link: <a rel="noopener" href="https://oehha.ca.gov/proposition-65" target="_blank">https://oehha.ca.gov/proposition-65</a></p>